about × contact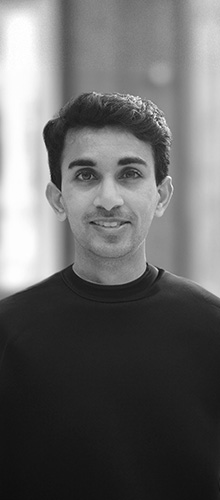 Hi, I'm Aman!
Being a product designer and a mechanical engineer, I am always enthusiastic to take up challenging projects at the wonderful intersection of these fields. I love how a figment of one's imagination can be converted into a tangible product that people interact with and benefit from. I enjoy tinkering with mechanisms, playing with ideas, and making functional models.
I believe the role of industrial designers to be an incredibly responsible one – where we not only create objects and products around us, but also invent, cultivate, and influence needs. Hence, it must be carried out with care and competence. To satisfy needs and solve problems while adding value to people's lives is my pursuit.
Work
I am a Functionality Designer at MMID, an international product development agency in Delft, The Netherlands. My role consists of designing how products function. The nature of projects and customers at MMID is such that true impact is made and this gives me immense satisfaction.
I do smaller projects as part of my own company, xad. This includes a variety of clients for product & visual design. Want to talk about an idea? Feel free to contact me.
Contact
Write an email to [email protected] or message me on LinkedIn.
Background
Coming from a family of makers and designers in India, I have always been curious to find out how things work. Following my curiosity, I went on to study mechanical engineering at BITS Pilani Goa in 2014. In my first year at university, I stumbled upon industrial design and was excited that there exists an entire discipline where I could learn how things are designed, how they function, and how they are manufactured. Since then, my hobbies, my internships, my work with start-ups, and also my engineering thesis mapped me to the field of design.
After graduating in 2018 with a BE in Mechanical Engineering, I moved to The Netherlands to pursue a masters degree in Delft. I completed my MSc in Integrated Product Design at TU Delft in 2020. I find the blend of my engineering background and design experience to be immensely useful to work on projects, understand them in depth, and come up with fresh and innovative yet feasible solutions.
Experience & Collaborations